Homelessness and Poverty in Orange County
The Problem: Homelessness and Poverty
Homelessness and poverty are widespread issues that, combined, affect millions of people nationwide, and hundreds of thousands of people in Orange County alone.
On a single night in 2014, more than 575,000 people were experiencing homelessness in the United States—meaning they were sleeping outside or in an emergency shelter or transitional housing program.  Of that number, about 220,000 were individuals in families and 50,000 were veterans.[i]
It is impossible to ignore the impact of homelessness in Orange County.  More than 400 people live on the grounds of the Santa Ana Civic Center alone, and about 62% report having lived there for more than a year.  There are also a number of homeless camps along the Santa Ana riverbed, in parks, and elsewhere.
Unfortunately, the problem isn't getting better.  It's getting worse.  The homeless population in Orange County is growing.  In one night in January 2015, a point-in-time count tallied 4,452 homeless people in Orange County.[ii]  Using that data, experts estimate that approximately 15,300 people are homeless at least one night during the year.  These numbers are significantly higher than the numbers recorded in the 2013 census.
But homelessness is only part of the story.  Uncounted in the homeless tally are the scores of people who are living in extreme poverty.  Due in large part to high housing costs, California has the highest poverty rate in the country, and Orange County has the second-highest poverty rate within the state.[iii]  Nearly 25% of Orange County residents are living in poverty.[iv]  With over 3.1 million people living in Orange County, that means that more than 775,000 individuals are living in poverty, right in our own community.
Rents are so high in Orange County that the lowest quartile of income earners is forced to spend a whopping 67% of their income on housing alone.  That leaves a low-income family with only 33 percent of their meager income left over for food, transportation, clothing, medications, and other basic needs.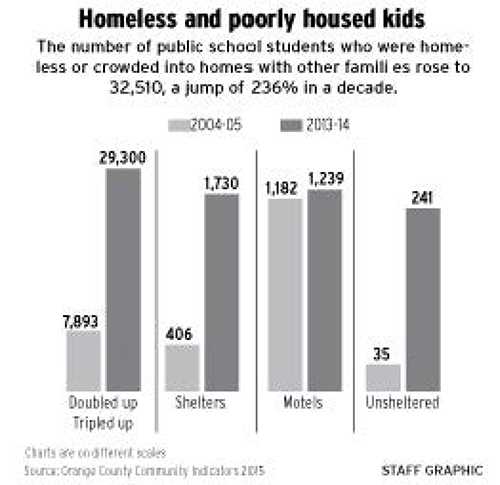 Families with children are hit the hardest: one-third of children under the age of 12 are living in poverty.[v]  The number of public school students living in insecure housing arrangements—meaning they were either crowded into homes with other families or living in shelters, motels, campgrounds, or their parents' cars—rose to 32,510 in the 2013–2014 school year.  That represents a jump of 236% in less than a decade.  The following chart illustrates how the problem is affecting children in our community.[vi]
The statistics clearly show the problem our community faces with homelessness and extreme poverty.
So what can we do to help those men, women and children who are suffering?  Are the local governments taking any action?  How about churches and charitable organizations?
The Solution:  A Loving and Caring Community
Orange County is aware of the problem and is taking steps to actively address it.  In early 2016, the Board of Supervisors hired Susan Price as director of care coordination, although she is better known by her informal title, the "Homeless Czar."  Susan Price did great work in Long Beach and helped reduce the homeless population there by about 18% since 2011.
Back in 2007, the county formed the Commission to End Homelessness.  That commission partnered up with the nonprofit 2-1-1 Orange County, and in 2010 they prepared a Ten-Year Plan to End Homelessness.  The plan is currently in its sixth year, but despite great efforts, the number of homeless people has not decreased.  Moreover, the plan does not address the needs of the impoverished county residents.  Something more needs to be done.
Many cities are also working on the problem. For example, Anaheim works with the nonprofit Mercy House to provide food, showers and other services to homeless individuals in and around La Palma Park.  And Santa Ana recently proposed a three-part initiative, which includes converting an old motel into housing for chronically homeless people and families.
Churches of all denominations are also stepping up to try to address the community's needs.  More than 200 churches in the county have food pantries or participate in other ways to help shelter, feed and clothe the poor near their place of worship.  Churches are very good at reaching out to people in need and serving without any expectation of being repaid.
Without diminishing the great work of the county, cities and churches, we find that some of the most inspiring efforts come from the many charitable organizations dedicated primarily to providing shelter, food and clothing to the poor.  Many times the individuals running these organizations have committed their lives to the cause and have foregone personal and material successes to do it.  A few examples are:
Family Promise. Located near the Orange Circle, Family Promise helps homeless families achieve housing stability by providing short term shelter, meals, case management and hospitality.

Mercy House. Located in Santa Ana, Mercy House began 25 years ago as a small outreach to provide shelter to single men.  Today, it provides housing and comprehensive support services for a variety of homeless populations which includes families, adult men and women, mothers and their children, people living with HIV/AIDS, individuals overcoming substance addictions, and some who are physically and mentally disabled.

Southwest Community Center. Located in Santa Ana on the corner of 2nd and N. Forest Ave., the Southwest Community Center serves 70,000 meals per year.

Loaves and Fishes Soup Kitchen. The kitchen has been serving nutritious meals and a generous dose of friendship and compassion to low income families of Orange County since 1986.  In addition to the meals, their all-volunteer staff also provides (when available) grocery bags, limited medical services, ESL classes, hygiene items, clothing and arts and crafts for the children.

Grandma's House of Hope. Founded in 2004 by Je'net Kreitner and her husband, Patrick Kreitner, Grandma's House of Hope provides basic needs and enrichment services to women, children, and families living in extreme poverty and facing seemingly insurmountable barriers, including human trafficking, domestic violence, life-threatening illnesses, and severe mental health concerns. This was a personal journey for Je'net, who experienced an episode of homelessness herself in 1991. Her dream was to provide hope for others.  In 2004, she and Patrick provided housing for up to 10 women at a time in their Garden Grove home. They also began packing food bags for hungry children living in local motels and delivering them on weekends, and organized a homeless outreach at their local church in Orange. Today, Grandma's House of Hope is multi-program non-profit designed to serve the "invisible populations" of Orange County: the under-served women, children and families that fall between the cracks of other programs.

Caterina's Club. This organization feeds nearly 1,200 children five nights a week who live in motels in Anaheim.  Additionally, it runs a second program called "Welcome Home", where qualified families, living in the dark environment of a motel, are provided with the necessary resources to move into the safety and stability of an apartment or condo.
These are only a few examples of more than seventy charitable organizations dedicated to serving the poor in Orange County.  Please read their inspiring stories on the Volunteer Organizations page of this website.  These organizations survive with the assistance of a caring community of volunteers.  THEY NEED YOU!
What can you do to help?  Use this site to learn about the great Orange County charities that are dedicated to providing shelter, food, clothing, and other basic necessities to the poorest members of our community.  Find an organization that inspires you to take action and then volunteer to help.  You can begin by registering as a volunteer on this site.
_____________________
[ii] See the Point in Time Study at https://www.211oc.org/reports/point-in-time.html.
[iii] California Housing Partnership Corporation, Update on California's Affordable Housing Crisis: The Critical Role of Housing Access and Affordability in Reducing Poverty (April 2015), available at http://chpc.net/wp-content/uploads/2015/11/1-2015StatewideHousingNeedReportFINAL.pdf.
[iv] Jeff Collins, The High Cost of Housing Drives O.C. Poverty to Nearly Double the Official Rate, Report Says, Orange County Register, April 28, 2015, available at http://www.ocregister.com/articles/housing-659773-percent-county.html.  Orange County is one of the least affordable counties to live in in the nation. General cost of living is 43% above the U.S. average, and our housing market is one of the most expensive in the nation. To illustrate the issue: An Orange County renter must earn $29.75 an hour for their housing costs not to exceed 33% of their income.  That equals a $61,884 annual salary.  In comparison one in five Orange County households (20.5%) make less than $25,000 annually (U.S. Census).  Given these statistics, a single parent with two children working two full-time minimum wage jobs would pay 59.5% of their income towards housing to pay for a 2 bedroom apartment. This affordability gap is one of the largest contributing factors to homelessness in our county.
[v] Margot Roosevelt, Less for many: 'Opportunity gap', income disparity, poverty grows in Orange County, Orange County Register, August 9, 2015, available at http://www.ocregister.com/articles/county-676471-orange-percent.html.
"If you can't feed a hundred people, then feed just one."
∼St. Mother Teresa of Calcutta