Christmas is a time for giving and sharing and our monthly volunteer event, Helping Hands-Friends of VNOC , did not disappoint!
The cold weather and fog couldn't keep them from volunteering on Christmas Eve morning at the Crossing Church in Costa Mesa.
Colorful handmade beanies, blankets, sleeping bags and over 140 pairs of Bombas socks were handed out to help keep the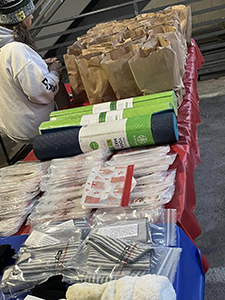 homeless warm; 50 lunch bags with carved ham with Swiss cheese sandwiches and snacks were distributed; Norwex body & face cloths and Thirty-One Gifts reusable gift bags.
Everyone received a bag to fill with essentials and goodies and left with a smile. The guests were very thankful and grateful!
Our volunteers left with their hearts filled with warmth for making Christmas a little nicer for our homeless neighbors.
If you are interested in volunteering, please download our free app on Google Play, register then search events. With one click you are signed up to help. Please ask your friends and family to do the same.