You know that feeling you had when you were a child and you walked into a room full of Christmas trees and decorations? The wonderment of it all? You just couldn't take in the sight of everything at once! You had to look around and observe every bit and each time you looked, you saw something you hadn't seen before. That's how I felt when I walked into Wilcox Manor.
I had never heard of Wilcox Manor before. Luckily, our CEO, Bill Cates had gone to an event there and said we just had to check it out. When we arrived to this amazing jewel of a home located in a Tustin residential neighborhood, I had no idea what to expect.
We were greeted at the door by Lindburgh McPherson. Lindburgh and his partner Michael, a psychologist, have owned the home since 2007. Lindburgh and Michael live throughout the home, but most of their living area is upstairs. The home was built in 1880 and was originally a hotel, located down the street from where it is now. The hotel eventually closed in 1895. Shortly after that, business man Charles Wilcox bought the abandoned building, dismantled it and moved it to its current location. Lindburgh and Michael are the fourth and final owners of this spectacular home. They have bestowed the property to three charities in their trust. The home will become a museum for the community to enjoy.
Not only is the home unique and beautiful, we quickly realized how special Lindburgh was and wanted to find out about his amazing life.
Lindburgh was born in Belize, the independent and sovereign country located on the north eastern coast of Central America. He was adopted and has two brothers who were also adopted by the same father. Their father was one of seven British diplomats who ran the country. In 1981, when Belize established their independence, there was no need for seven diplomats and Lindburgh's father was fortunate enough to accept an assignment in the Bahamas. The family lived there for a few years, then eventually moved to Los Angeles.
Linburgh enjoys sculpting and has been taking classes with a local artist for some time. The bust of Winston Churchill is one example of his many talents that you will see throughout the home. He stated that one of the greatest gifts his father gave him was the gift of travel. Linburgh and Michael have traveled extensively, and most of the items in the home are from their worldwide travels. When they visited South Africa they toured the Nelson Mandela home. Lindburgh noticed that there was not a sculpture of this remarkable man. He decided at that moment what his next sculpture would be. He is currently working on a bust of Nelson Mandela and hopes to donate it to add to the many treasures of the Mandela Home's current collection.
Both Lindburgh and Michael are dedicated to giving back to the community. They believe that giving in small ways can bring us all together and help make our communities better for it. Twice a week, Lindburgh volunteers with Habitat for Humanity at a couple of their ReStore Locations. Charitable giving is originally why Wilcox Manor was established as an event venue. When they opened the doors in 2010, it was used for charitable events only. It was through those events they had requests to use the venue for weddings, bar mitzvahs and other special celebrations. That is when they decided to open to the public and make this amazing venue available for other special events.
Speaking of giving back, one room you cannot overlook in Wilcox Manor is the incredible dining room.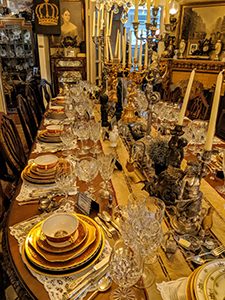 The table is one of the only items that was brought to America from Belize and belonged to Lindburgh's father when he was a diplomat. We can only imagine who has dined at this table!
Lindburgh and Michael generously offer their dining room and will prepare an eleven course meal for guests. The one request is that you auction off the unforgettable dining experience at your charitable event with a bid starting at $3,000. It is worth every penny. This generosity goes above and beyond as Lindburgh and Michael are truly giving back and we appreciate it so much!
We are honored to be hosting our first gala "A Gathering In The Gardens At The Historic Wilcox Manor" on November 9, 2019. This will be a special night featuring artist Brian Peterson of Faces of Santa Ana as our inspirational keynote speaker. All guests will have the unique opportunity of touring this fabulous, historic home. This is an event you won't want to miss! Please email me for more information: maria@volunteernetworkoc.org
The warmth and hospitality of Lindburgh and Michael is something we need to stop and cherish. Opening up their home and offering to help others is a gift we can't overlook. We can only hope to do our part. As Nelson Mandela stated: And as we let our own light shine, we unconsciously give other people permission to do the same.
That light is shining bright at Wilcox Manor!