Giving Homeless A Face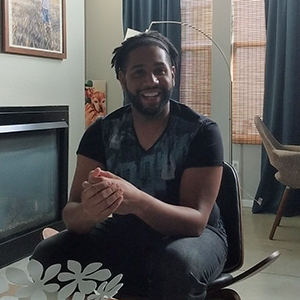 Recently my colleague, Karen Gregg and I had the pleasure of meeting artist Brian Peterson of Faces Of Santa Ana. Brian is truly an inspiration. He is making a difference in his community and is sharing his message of love with others. Brian is someone you would like to have as your neighbor, maybe someday you will.
Brian grew up in Miami, Florida and knew at a young age that he wanted to be an artist. He went to a high school for the arts and attended college in Cleveland and started his career in automotive design. After this career choice,
Brian had not picked up a paint brush in several years. He brought with him to each place he lived, a blank canvas. He needed something to inspire him to paint again.
Faith is a big part of Brian's life. He was attending church one day, and the pastor mentioned "The Elephant in the Room." That was it! Brian left the service and painted his first painting after many years. The inspiration seed had been planted.
Brian and his wife live in Santa Ana. Every day they see, as he calls them, his neighbors on the street. There are many homeless around.
One day, Brian decided to put fear and uncertainty aside, which we all experience when dealing with something we are unsure of. He approached a man he had seen many times near his home. He introduced himself and they chatted.
The man did not understand why Brian was taking the time to talk to him. No one had done that before. Brian does not know why, but he asked if he could paint the man's portrait. The man agreed. Brian took a black and white photo and went back to his studio. This was the first of, so far, thirty three paintings of neighbors.
Brian describes the process of painting the portrait and the reveal. From the black and white photo, he prays he studies and searches for color. He asks himself "What can I do to make this person see themselves with dignity again and strip away the title of "homelessness" through color and light?" Then he lets the creative process flow. When the painting is completed, it is revealed to the subject in the painting. As you can imagine, there is surprise and tears as Brian explains, "This Is Who You Are!"
From there, the painting goes up for sale for $2,500 on The Faces Of Santa Ana website: http://merch.facesofsantaana.com/. Twenty eight of the paintings have sold so far. When a painting sells, half of that amount, $1,250 goes into a nonprofit business account and it is shared with the person in the painting. They can spend it on a shopping spree, a hotel room, etc. They have used the money for wheelchairs, bicycles and walkers. They have also sent people to visit family. In turn, Brian is gaining their trust and rapport again. This means so much for a part of the population who has shut down and given up.
Long after the money is gone, the relationship goes on. Several of Brian's neighbors have gained hope, dignity and the confidence to go on, even in some cases getting a job and eventually housing.
Yes, Brian is making a difference in his community, but he is also hoping to spread the love to others. Someone asked if he would ever consider doing a "how to paint" series similar to Bob Ross. As a matter of fact, Brian is starting a YouTube Channel to do just that. He is hoping that others follow his lead, and use their paint brush to help bring color to people who have lost hope and feel rejected by society. Keep an eye on Brian and Faces of Santa Ana. This is just the beginning.
I liken Brian to that famous person who asked "Won't You Be My Neighbor" and who spread love to everyone. I think we have met the person who is going to carry on the legacy of that neighborhood with love and compassion. We all want to be in Brian Peterson's Neighborhood.